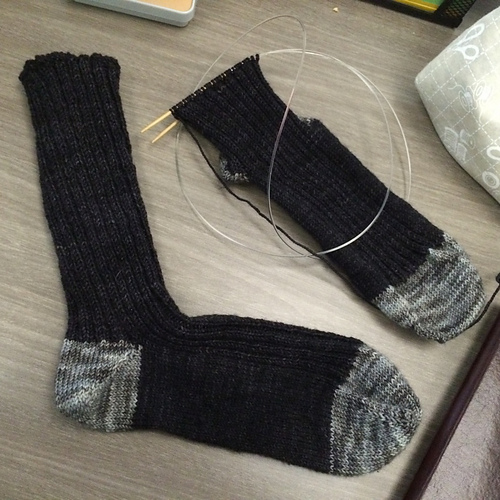 My husband has wide feet with wide toes, so I used the same modified toe for Steelhead, and a smaller needle.
Judy's magic cast-on using magic loop.
CO 16 sts per needle.
Increase to 68 sts as pattern designates.
Work 7 rounds even.
Switch colors, k1 round. Start pattern with round 1.
As there are now 4 more stitches than the pattern calls for, I worked the k2, p2 rib across the top beginning and ending with the k2, then worked stockinette across the bottom. This means the ribbing pattern doesn't start at the sides of his feet, but more towards the top. this is important when his shoes press so strongly against the sides of his feet to begin with.
I worked the heel as written which is 2 more rows than called for because of the stitch increase.
I also added two stitches on each side of the leg in the MC after finishing the heel, then p2tog/ssp the following round. This removed any holes that may have occurred on each side of the heel.
I ended up working 76 rows of ribbing on the leg.